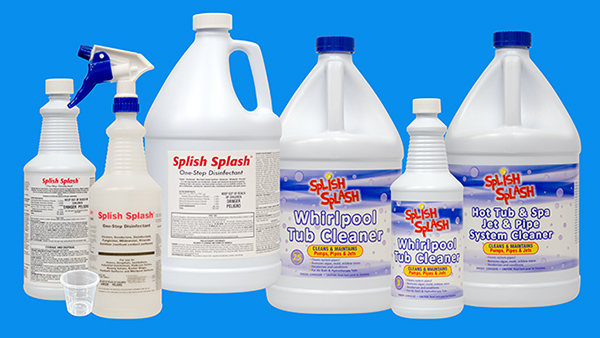 Our one-step disinfectant concentrated product line is used as a disinfectant, sanitizer, fungicidal, mildewstat, virucide, and cleaner. Splish Splash One-Step Disinfectant is EPA Registered, Registered in all 50 states. Disinfect and clean with just one product!
Our sodium hypochlorite patented product line includes our whirlpool tub cleaner, commercial and residential applications, hot tub & spa and pedicure basin cleaner.
Developed by a plumbing contractor who recognized the problem and a chemist who specializes in water treatment, SPLISH SPLASH packs a powerful one-two punch!
First, SPLISH SPLASH removes the iron content from the water. Iron dissolved in water creates a roadblock for many cleaning agents - Independent testing showed SPLISH SPLASH removed 100% of the iron from even the hardest well water.
With the iron out of the way, SPLISH SPLASH'S special formulation of cleaners and chemicals are free to work. Independent microscopic testing of tub water prior to adding SPLISH SPLASH and at the end of the cleaning cycle showed an increase of 42.8% in the amount of dissolved solids in the water. This proves that SPLISH SPLASH breaks down and removes the slime and grime from the system.